December 2017
| Sun | Mon | Tue | Wed | Thu | Fri | Sat |
| --- | --- | --- | --- | --- | --- | --- |
| | | | | | 1 | 2 |
| 3 | 4 | 5 | 6 | 7 | 8 | 9 |
| 10 | 11 | 12 | 13 | 14 | 15 | 16 |
| 17 | 18 | 19 | 20 | 21 | 22 | 23 |
| 24 | 25 | 26 | 27 | 28 | 29 | 30 |
| 31 | | | | | | |
Calendar

Social bookmarking










Bookmark and share the address of Compass Guide Members Forum on your social bookmarking website
2-Mar Numbers 9-10 Romans 3-4 Psalms 1-5 Proverbs 2
King Julian From Matagascar - "I Like To Move It Move It"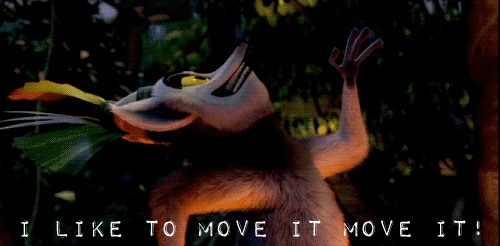 Num 9:22-23 (NIV) 22 Whether the cloud stayed over the tabernacle for two days or a month or a year, the Israelites would remain in camp and not set out; but when it lifted, they would set out. 23 At the Lord's command they encamped, and at the Lord's command they set out. They obeyed the Lord's order, in accordance with his command through Moses.
God's people learned obedience to God through His movements.  Whenever God's cloud would move, the Israelites would pack up their tents and get back under the cloud.  They learned to keep an eye on God's cloud and only move when He moved.  This is a powerful concept.
Today we don't have a literal cloud or a night time pillar of fire to watch with our natural eyes.  We must be spiritually awake, and we must see with our natural and our spiritual eyes.  When God is on the move, we MUST be moving with Him.  When He stays camped for a period of time, we don't move.  It's that simple.
There are many Christians who don't follow God at all.  They have the bumper sticker, the T-shirt and they go to church on Sunday (maybe).  But those who are "Followers of Christ" will value this writing because they are always honing and tweaking their capacity to follow Christ.  Since God's presence is not found in a natural cloud, a follower of Christ must be spiritually alive, awake, and active.
1.  God moves you ON PURPOSE. He moves in wisdom.  If you have made friends with sisters wisdom and knowledge, you will know when God is on the move.  They will tell you, and you then can move with Him.
2.  God moves you to places that will build His kingdom and that will bring bountiful blessing to you and to His people while allowing you to maximize your gifts, talents, and callings.
3.  God will not leave you in a place of dishonor for very long.  He wants you to go where you are CELEBRATED, not where you are tolerated. Just as the Holy Spirit will not stay in a house of contempt, and as the dove of the Spirit will fly away from those overtly living in error and fleshly scorn, so will God move you out of any place that has contempt for the gifts and callings that He has placed inside of you.
4.  God will stir you to know when the move is coming.  You will see it in your daily bible reading.  You will receive special kingdom shots of wisdom, knowledge, and understanding that you would not normally know.  Your desires will begin to point to a new place, a new direction, and a new desire for greater good.  Supernatural doors will begin to open because your stated and written goals and vision will begin to unfold like a clear road map in front of you.  There will be PEACE in your heart, although you may not understand everything fully in your mind.  Your faith will be active and alive, and you will be fully capable of making the decision to jump through the open door.  
These are a few dynamics of how God moves New Testament kings and priests who are followers of Christ.  He will make it clear to you because He knows that your will and decision is to FOLLOW CHRIST.
COMPASS GUIDE is the ultimate 1 year planning guide to help get you on track, get your life filtered and focused, get short, medium and long term goals set, and get your CORE PURPOSE STATEMENT written down for the appointed time (which is now!).  Get the Compass Guide at Amazon or at the
www.doctordanieldaves.com
web site.
Did you know that God is moving His chess pieces into position all over the world?  Those who follow Him are being put into kingdom position for SUCH A TIME AS THIS!  What an exciting adventure to be alive during this time in biblical history where the days are merging, God's kingdom is arising, and satan is having his last grand move because he knows his time is short, God has sat and judged, and the end of the matter is settled forever in Heaven!  Get ready to MOVE!  



Tomorrow's Reading:
3-Mar Numbers 11-12 Romans 5-6 Psalms 6-10 Proverbs 3
_________________
Sincerely,
Dr. Daniel Daves

The Giant Tracker
www.doctordanieldaves.com
Admin




Posts

: 345


Join date

: 2012-11-03


Age

: 55


Location

: Dallas, TX & San Jose, Costa Rica



Similar topics
---
Permissions in this forum:
You
cannot
reply to topics in this forum